Everyone (should) know the famous sans-serif font Bebas or the Bebas Neue. Its is such a tight font and there is something about the letter spacing that makes is really satisfying to work with for a designer.
And now there is the Bebas Neue Pro. Which basically means that it now has all the font styles you can every want. From thin to Extra Bold. Where the Bebas Neue is an all caps type the Pro version also has lowercase letters. Where the earlier all caps version used to be great for headlines and large text the lighter weights with the lowercase letters are also great for body copy.
What first strikes you when looking at this font modern/timeless design of it. A condensed sans-serif with the perfect letter spacing so all individual characters combine well with each-other.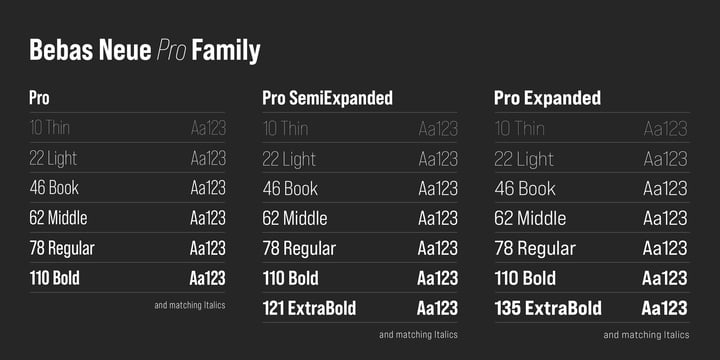 The designer of this font is Dharma Type also known form Bebas Neue, Bebas Kai and the Bebas. The Pro version comes in weights from thin to extra bold. And also in and semi-expanded en expanded family. Its classification is sans-serif.
You can find and download the regular Bebas Neue on letterally every font website for free. And the Pro version can be purchased at : www.myfonts.com